---
Stanbury Scarf and Lord New Generation Chargers are industrial grade in design for the larger domestic systems that utilize large battery banks. They are supplied as standard with the Geebung board fitted. The Electronic chargers (SNG) offer much lower generator draw, and are specifically designed for generator use.
---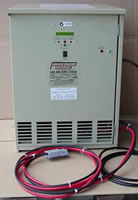 The LCD on the front panel continuously displays the battery charger output voltage and current.
There is no timed shutdown. But the battery charger may be turned ON or OFF via the on/off switch on the front panel.
A preset (60 - 120mins) timed voltage boost is achieved by pressing and holding the boost button for 5 seconds. To extend the boost time, wait for a minimum of 5 seconds and then press the boost button for another 5 seconds. This increases the boost time by 15 minutes. This process can be repeated four times to give a maximum boost time of Preset + 60mins. The charger reverts back to its normal constant power/constant voltage operation after the boost charge.
Boost will only operate after 2 hours of constant voltage. Battery temperature compensation of the constant voltage may be included.
SWITCH MODE:
Using switch mode technology they are very quiet, very efficient & very light in comparison with older chargers.
CONTROLLED TAPER:
They are built to a 3 -1 taper which means that rated output is obtained at a battery voltage of 2.1 volts per cell while charging and tapering to one third of rated output at 2.6 volts per cell. This means that the one charger can be used in either 8 hour or 12 hour charging situations as well as any intermediate charging time. There is no special model for 8 hour charging. The charging time required is simply a function of the battery size. It means that a particular charger will charge one size of battery in 8 hours and a battery 50% larger in 12 hours. From this it follows that intermediate battery sizes may be charged with a corresponding range of charging times.
CHARGE TERMINATION:
The state of the charge is determined by what is known as the DV/DT method. This means that the charge is terminated when the battery voltage stops rising. The effect of this is that the battery will be correctly charged no matter what its condition.
CHARGING DATA:
Previously unavailable charging data is displayed on the charger during and at the end of every charge cycle. This makes problem solving much easier, be the problem in the charger, battery, or the operating environment.
AUTOMATIC EQUALIZE:
A 2 hour equalise charge is automatic after the charger has been continuously connected to the battery for 26 hours. In 7 day a week applications manual equalising is necessary.
MODULAR:
Construction is based on modular concept. Should a module fail an exchange module can be fitted in a few minutes. Exchange modules are readily available so that down time is greatly reduced. Three basic power module sizes are used in building up chargers. By selecting appropriate module combinations chargers of any size are possible.
FEATURES:
* Light, about 25% the weight of conventional chargers.
* Efficient, well over 90% efficient compared to 55-67% for conventional designs. We have been saving our customers money since 1997
* Economical, draws up to 30% less current from your mains supply than old designs.
* Power factor near unity, old designs less then 0.7.
* Controlled output. We set the output and it remains the same regardless of local mains variations.
* DVDT Control, No smart charger can be without it.
* LCD display. This gives comprehensive charge information, current, voltage, time on charge, ampere hours, and much more.
* Lower battery temperature rise, Output is near pure DC so the battery heats up less and has lower water consumption during charging.
* Proven reliable operation. In operation since 1993 Stanbury Scarf and Lord's track record is outstanding.
* Full manufacturers support - proven, reliable and consistent, Australia wide.
* Quality built for Australia and Australian conditions which are amongst the toughest in the world. Convection cooling means no moving parts and more reliability.
* Able to cope with varying voltage changes. For large voltage changers please seek manufactures recommendations.
WARRANTY:
Stanbury Battery Chargers are unconditionally guaranteed against defect in workmanship or materials for a period of 1 year from date of purchase.
Constant Voltage Boost (CVB) Battery Chargers return constant power (CW) back into the battery until the battery voltage reaches the Constant Voltage (CV) Level. Thereafter, the charger current falls depending on the state of charge of the battery. If the battery is loaded and the voltage falls below the CV level, the charger reverts back to the CW mode and the whole process repeats. In this way, full use is made of the battery charger capacity during the Constant Power stage. During the Boost mode, the maximum charger output current is limited to 30 - 40% of the rated battery charger current.