Outback Maximum Powerpoint Controllers
MPPT charge controllers allow your solar panels to operate at their optimum power output voltage, improving their performance by as much as 30%. They can also match the output of the solar panels to the battery voltage to insure maximum charge (amps). MPPT charge controllers are more expensive that PWM charge controllers, but the advantages are worth the cost. If you can afford it, you should definitely use an MPPT charge controller.

OutBack's industry leading Maximum Power Point Tracking (MPPT) Charge Controllers offer customers the same reliability and durability built into every OutBack product. Innovative solar harvesting and battery charging algorithms allow you to maximize your systems potential and can increase your renewable energy yield by up to 30%.
---
Outback Maximum Powerpoint Controllers
The FLEXmax family of charge controllers is the latest innovation in Maximum Power Point Tracking (MPPT) charge controllers from OutBack Power Systems. The innovative FLEXmax MPPT software algorithm is both continuous and active, increasing your photovoltaic array power yield up to 30% compared to non-MPPT controllers. Thanks to active cooling and intelligent thermal management cooling, both FLEXmax charge controllers can operate at their full maximum current rating, 60 Amps or 80 Amps respectively, in ambient temperatures as high as 104°F (40°C).
Outback Flexmax 60 MPPT charge controller
Price: $1,150.00
Formerly Outback MX60
FEATURES:
Nominal Battery Voltages: 12, 24, 36, 48, or 60 VDC (Single model - selectable via field programming at start-up)
Maximum Output Current: 60 amps @ 104º F (40ºC) with adjustable current limit
Maximum Solar Array STC Nameplate: 12 VDC systems 900 Watts / 24 VDC systems 1800 Watts /
48 VDC systems 3600 Watts / 60 VDC Systems 4500 Watts
NEC Recommended Solar Array STC Nameplate: 12 VDC systems 750 Watts / 24 VDC systems 1500 Watts /
48 VDC systems 3000 Watts / 60 VDC Systems 3750 Watts
PV Open Circuit Voltage (VOC): 150 VDC absolute maximum coldest conditions / 145 VDC start-up and operating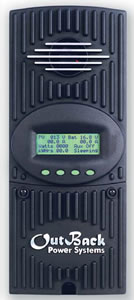 maximum
Standby Power Consumption: Less than 1 Watt typical
Power Conversion Efficiency: 98.1% @ 60 Amps in at 48 VDC System voltage - Typical Charging Regulation Five Stages: Bulk, Absorption, Float, Silent and Equalization
Voltage Regulation Set points: 10 to 60 VDC user adjustable with password protection
Equalization Charging: Programmable Voltage Setpoint and Duration - Automatic Termination when completed
Battery Temperature Compensation: Automatic with optional RTS installed / 5.0 mV per °C per 2V battery cell
Voltage Step-Down Capability: Can charge a lower voltage battery from a higher voltage PV array - Max 150 VDC input
Weight: Unit 5.3 kg
- Shipping (6.4 kg)
Dimensions - Unit 40 x 14 x 10cm - (H x W x D)
- Shipping 46 x 30 x 20 cm
Warranty Standard 5 year / Optional 10 Year
Outback Flexmax 80 MPPT charge controller
Price: $1,300.00
FEATURES:
Nominal Battery Voltages: 12, 24, 36, 48, or 60 VDC (Single model - selectable via field programming at start-up)
Maximum Output Current: 80 amps @ 104º F (40ºC) with adjustable current limit
Maximum Solar Array STC Nameplate: 12 VDC systems 1250 Watts / 24 VDC systems 2500 Watts / 48 VDC systems 5000 Watts / 60 VDC Systems 7500 Watts
NEC Recommended Solar Array STC Nameplate: 12 VDC systems 1000 Watts / 24 VDC systems 2000 Watts /
48 VDC systems 4000 Watts / 60 VDC Systems 5000 Watts
PV Open Circuit Voltage (VOC): 150 VDC absolute maximum coldest conditions / 145 VDC start-up and operating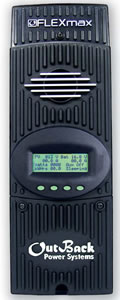 maximum
Standby Power Consumption: Less than 1 Watt typical
Power Conversion Efficiency: 97.5% @ 80 Amps in a 48 VDC System - Typical
Charging Regulation Five Stages: Bulk, Absorption, Float, Silent and Equalization
Voltage Regulation Set points: 10 to 60 VDC user adjustable with password protection
Equalization Charging: Programmable Voltage Setpoint and Duration - Automatic Termination when completed
Battery Temperature Compensation: Automatic with optional RTS installed / 5.0 mV per °C per
2V battery cell
Voltage Step-Down Capability: Can charge a lower voltage battery from a higher voltage PV array - Max 150 VDC input
Weight: Unit 5.56 kg
- Shipping (7.10 kg)
Dimensions - Unit 41.3 x 14 x 10 cm - (H x W x D)
- Shipping 53 x 27 x 25 cm
Warranty Standard 5 year / Optional 10 Year