Xantrex C Series Solar Charge Controllers
As a Solar Charge Controller
* When used as a solar charge controller, the C40 can control 12, 24, or 48 VDC array operation and the C35 and C60 can control 12 and 24 VDC array operation.
* All units offer selectable settings for NiCad, flooded lead acid, gel, or absorbed glass mat batteries.
As a DC load controller
* As a DC load controller, the C Series has a low voltage disconnect warning system and field adjustable set points that govern automatic low and high voltage disconnect.
* Manual reset switch for emergency low voltage operation.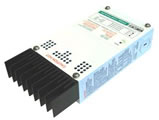 As a Diversion Load Controller
* The C Series automatically directs extra power to a dedicated load such as an electric water heater and ensures batteries are never over-charged.
Options
* Plug-in remote temperature sensor (BTS) for increased charging precision.
* Cumulative amp-hour meter (CM) that can be installed on the face of the controller, or remotely (CM/R), up to 100 feet (30 m) away.
* Three-stage battery charging (bulk, absorption, and float).
* Automatic overload protection in both active and passive modes.
* PV array short circuit and reverse polarity protection.
* Durable construction.
* Microprocessor controlled.

2 Year Warranty